Providing
high quality services to our patients in multiple outreach locations in the Chippewa Valley.
Eau Claire GI Associates is an independent, privately owned, specialty medical practice that is part of the Oakleaf Medical network.
At Eau Claire GI, Dr. Ruh provides comprehensive clinical services related to the digestive tract, liver and pancreas. He diagnoses and manages complex and chronic gastrointestinal and liver disorders including but not limited to: Colorectal Cancer Screening, Inflammatory Bowel Disease (Crohn's, Ulcerative Colitis), Irritable Bowel Syndrome (IBS), Reflux esophagitis (acid reflux), Barrett's esophagus, Celiac disease and Acute and Chronic liver disease (Cirrhosis, Hepatitis C). Dr. Ruh collaborates with multiple physicians and networks, including but not limited to Oakleaf Medical Network, Marshfield Clinic and Mayo Clinic, to meet the needs of his patients.
CLICK HERE FOR PATIENT SERVICES & FORMS +
About Eau Claire G.I. Associates
Services provided by Dr. Ruh include:
Colonoscopy
Upper Endoscopy (EGD)
ERCP – complete therapeutic modalities
Endoscopic Stenting
Esophageal Manometry
pH Testing
Capsule Endoscopy
PEG tube placement
Procedures are performed at:
Oakleaf Surgical Hospital – Eau Claire
Sacred Heart Hospital – Eau Claire
Our Lady of Victory – Stanley
Chippewa Valley Hospital - Durand
Western Wisconsin Health - Baldwin
Prescriptions and Refills:
It is recommended that you check your amount left on your prescription frequently so that you do not use up your supply of needed medication. When you need a refill, please call our office at (715)552-7303.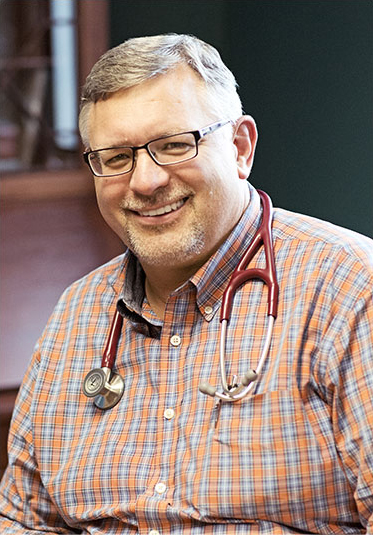 Meet Dr. Paul J. Ruh, MD
Gastroenterology, Hepatology
Dr. Ruh received his undergraduate degree from the University of Madison and earned his medical degree at the University of Wisconsin Medical School Madison. After Madison, he completed his residency in Internal medicine and Fellowship in Gastroenterology at the University of Nebraska.
Dr. Ruh was born and raised in Cedarburg, Wisconsin. After completing his fellowship in 1997, Dr. Ruh practiced in Two Rivers, Wisconsin before relocating to the Eau Claire area in 2012, when he took over the practice from Dr. Jahn Hansen.
He is board certified in Gastroenterology and Hepatology.
Outside of work, Dr Ruh enjoys many hobbies including woodworking, cars and boating.
MEET OUR TEAM +
We are here to help

Helpful resources

Click on each health issue below to view helpful forms and downloadable documents.
Have a question?

We are here to help. View Faqs
Some of this information was developed by the American College of Gastroenterologists – ACG. For more information, please visit www.gi.org. This information is intended to provide general guidance. It does not provide definitive medical advice. It is important that you consult your physician about a specific condition or symptoms.
What is a Gastroenterologist?

A Gastroenterologist is a physician that has general Internal medicine training and dedicated, specialized training in the management of diseases that involve the GI tract and liver. They are trained in endoscopy, which is the use of a narrow, flexible lighted tube with a video camera to visualize the inside of the esophagus, stomach and colon. In addition, Gastroenterologists also learn how to properly interpret findings and biopsy results from these procedures to make the clinical decisions on how to treat diseases, including cancer prevention.

What makes Gastroenterologists different?

Gastroenterologists perform the bulk of research involving the GI endoscopic procedures, as well as the interpretation of results and are considered experts in the field. Studies have shown that Gastroenterologists perform higher quality colonoscopy examinations and comprehensive consultative services when compared to other physicians. Research has shown that non-gastroenterologists are 5 times more likely to miss colorectal cancer during colonoscopy than Gastroeneterologists.

Does Dr. Ruh see pediatric patients?

On occasion, Dr. Ruh will see a pediatric patient but this is only after he has the opportunity to review the patient's medical record and feels that he is able to diagnose and treat the patient. There are also Gastroenterologists that specialize in pediatrics which would be recommended in the event Dr Ruh is not able to see that patient.

How do I schedule an appointment?

To schedule an appointment, please call the office at (715)552-7303. We will work with the patient to schedule the office visit and/or procedure at a location nearest and of the patients choosing. However, it is the patient's responsibility to insure that Dr. Ruh and that facility is covered by the patient's insurance.

Patients will be called (2) days prior to the scheduled appointment as a reminder.
Please bring insurance card(s) and current medication list to the appointment.

How do I cancel an appointment?

To cancel an appointment, please call the office at (715)552-7303 at least 24 hours in advance so that the appointment time may be offered to another patient. If calling after hours, please leave a message with the answering service.

What insurances are covered?

Eau Claire GI Associates accepts most types of insurance, Medicare and Medicaid. All insurance co-pays are due on the day of the appointment. The patient is expected to understand the benefits and coverage of his/her insurance plan as it is the patient's responsibility to pay any deductible, co-insurance and any other balance not paid by Insurance.

Where are procedures performed?

Oakleaf Surgical Hospital – Eau Claire
Sacred Heart Hospital – Eau Claire
Our Lady of Victory – Stanley
Chippewa Valley Hospital - Durand
Western Wisconsin Health - Baldwin
Contact us today

We are here to help

Office Hours in Eau Claire: Monday – Thursday from 8:00am – 5:00pm | Friday from 8:00am – 3:00pm | Office hours at outreach locations vary. Calls are answered 24 hours a day, 7 days a week either by staff at the clinic or an answering service after hours.

If you believe that you are in need of immediate assistance or if this is an emergency, please call 9-1-1.
Find us from anywhere.
Enter your location to get directions .
Get Directions